Well as we all know London is burning no its literally burning, like in the nursery rhyme the London bridge is burning down. Many of the youths of many towns and areas are looting/rioting and attacking shops, stealing things from stores such as electronics, shoes, clothes, etc. I get were all pissed about the government and them acting retarded giving money to banks who raise our rates and don't give loans with sensible rates, but
burning peoples houses and cars =/= getting back at the government ????
the police are also out numbered in most cases and are actually having to retreat in some cases. i am surprised they don't have the tear gas out there yet, but its just sad that the police in Britain can't bring down a riot. If this happened in the US it would have been squashed in a matter of hours not days.
Just like the L.A riots it was triggered by police brutality which was proved wrong during the riots. But many of the people who started protesting are gone just like the hippies in 1970's San Francisco who left and the only people there were teenagers looking to get high and live for free. The riots have lost steam and been derailed off of its original path. And its just sad how the race card is being played on both sides, Everyone out there rioting come from all races. I hate how people are saying its only black people or black people started this, in the video there are white people who sometimes out number the black people.
Retards come from all spectrum's of the rainbow, like the people on Facebook and twitter bragging about how much stuff they stole. Whats EVEN WORSE THAN THAT are the people trying to report their friends on face book or connect them to crimes, those type of people are worse than the rioters, because they to are trying to gain from the chaos. There not reporting it to be good citizens there angry because there not out there rioting with them, there in there house watching it all. No one likes to be left out and that's what happened to those people.
Even more sad news here this kid gets helped then robbed for his PSP and phone, now if you ask me this looks sad from our point of view but we don't know the full story.
that kid has a half empty bag with no school and hes just walking around, now its obvious yes he was beat up, but what was he doing there, he could have been going to loot ASWELL, no garuntee but a huge chance he was. Like the people who get trampled on black Friday at the wall-mart they get pissed off because they got trampled and could not "win" the mini foot race. Plus he had the PSP in an what i could make out as a plastic cover which means its new. just speculating here but we may never know the truth unless you were there. So much anger being wasted on random fires instead it should be on the government demanding our money back.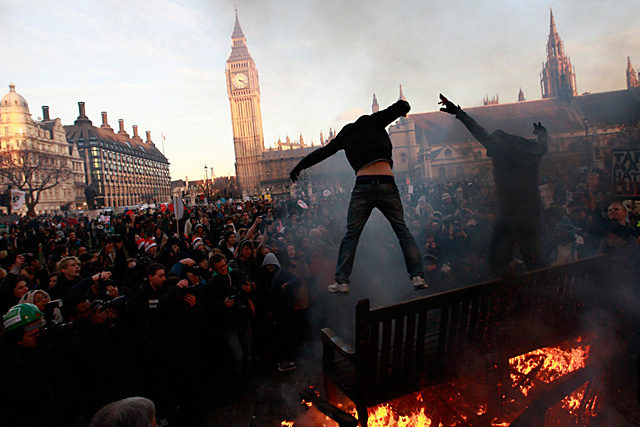 Heads up USA may be coming to a city near you, but with more tazers and tear gas